Clemson Institute for Engaged Aging – Brain Health Club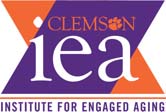 Purpose
IEA Brain Health Club (IEA BHC) is designed to meet the social and emotional needs of adults with dementia and their caregivers.  It provides activities and socialization opportunities outside the home in a safe and caring setting for older adults with early to mid-stage Alzheimer's disease and related dementias.  IEA BHC offers care partners personal time away during the day to rest and take care of personal concerns. In addition, resource information and dementia education may be provided.
Services Offered
For the Adult Participant with Early to mid-stage Alzheimer's Disease or Dementia:
This program provides a safe, loving environment for the well-being of each participant.  A variety of activities are designed to socially, creatively, intellectually, physically and spiritually stimulate the participants' bodies and minds.  Examples of some of these activities include group singing, arts and crafts, community service projects, reminiscing, exercise, games, puzzles, and socialization activities.
For the Caregiver:
This program provides respite (an interval of rest or relief) for the caregiver.  It supports the efforts of the family to keep the loved one in the home.  This program can also provide information regarding available community care and resources, Alzheimer's information and caregiver education.
Hours, Days of Operation
IEA Brain Health Club will operate weekly on Monday and Wednesday afternoons, 1-3:30 PM. Notification of closing on holidays or other times will be communicated to participants and caregivers in advance.   For inclement weather, the program will contact caregivers by 11:00 am using the contact information provided if closing due to weather is necessary. The Program Director may be contacted for any questions as needed. Every effort will be made to alert participants of weather closings.
Admission Criteria
Admission into the program will be based on the initial interview with the director as well as the applicant's ongoing ability to participate in a group setting.  The following considerations are used when evaluating whether an applicant is capable of participation.